Everyone gets excited about the idea of decorating the new house renovating the existing one. After furnishing the first thing that is most fantastic is a wall decoration. There are multiple ways to embellish the walls. One can use paintings, wall hangings, or simply the photo frames. But the best and the most trending idea is using wall stickers to enhance the regal look of your house. There are various types of decorative stickers, and it gets tough at times to pick the one of your kind. Let's have a look at different types of wall stickers and their use. This article is going to help you a lot to choose the ideal stickers for the place under consideration.
Floral Wall Stickers
The people with an iconic aesthetic sense prefer to use floral stickers. Floral wall stickers are among the most diverse stickers in colors and forms. The realistic flowers in any matching shades with your interior are the best to place in your drawing rooms and bedrooms. And the vector floral stickers can add beauty to your kitchen. There are cartoonish floral wall stickers for the kids' room. There could be a bright floral sticker welcoming your guests just at the entrance corridor wall.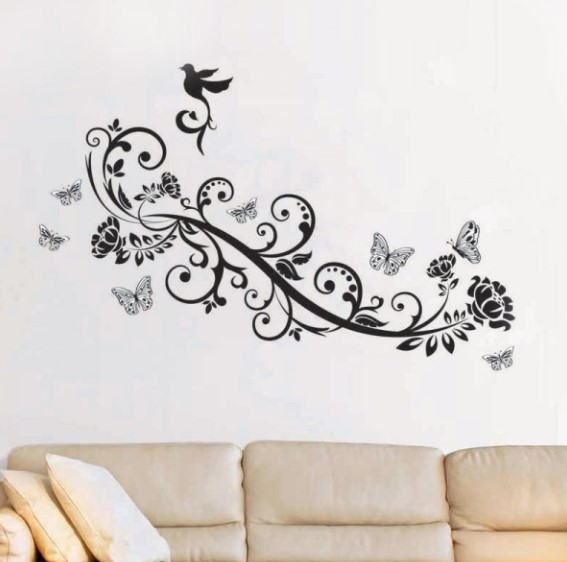 Tribal Wall Stickers
Tribal wall decals are getting more and more popular among people of the decade. The people who appreciate and are proud of their ancestors or any certain existing or ancient tribes are mostly appealed by this kind of sticker. Some of these tribal stickers are really artistic and in helping to bring out your inner beauty in front of the people around you. These stickers should be considered to use in the living area basically, but it is up to your creativity that how you can fit them with other decorative articles at your home.
Phrase Wall Stickers 
Another popular trend with wall stickers is to buy ones that feature some phrases. These could be inspirational, religious, or comedic phrases. You can use them anywhere the best match with the interior. The only thing you have to consider is the relevance of the words used with that certain area. If it is something that motivates you, you can place it on the wall behind your working place. Maybe, it is something comedic about your diet plan, display in the dining area to keep it reminding you that you are on diet.
Music Wall Stickers
These stickers are certain for the people who are more into music. But even if you are not, these stickers are among the most artistic, ravishing, and thematic stickers that can showcase your artistic side. For music lovers, there are stickers relevant to famous bands or songs, that can be placed in the bedroom. And if you are a musician, they are must-haves for your studio. Other options for musical stickers are the instruments and musical symbols that can add some extra flair to your living room.
Conclusion
Wall decoration is exciting and you can add love to these most exciting moments of decorating your home with selection and pasting of ravishing, artistic, and unique wall stickers. Decorate your sweet home with concern and aesthetics.

Posts from the same category: